In the fast-paced, digitally evolving world we live in, the need for mobile networks that are resilient, reliable, and revolutionary is paramount. Among the plethora of mobile service providers, there is one name that stands out in a league of its own – Rakuten Mobile. This article serves as a complete guide to Rakuten Mobile, explaining this mobile service provider from three perspectives: price, procedure, and convenience.
タップできる目次 Table of Contents
Charges of Rakuten Mobile
In this section, we will look at the following items regarding Rakuten Mobile's charges.

I will explain one by one.
Administration Fee
Rakuten Mobile charges zero fees for sign up. Some other companies charge more than 3,000 yen, so Rakuten Mobile makes it easy to apply.
Cancellation Fee
Rakuten Mobile does not charge cancellation fees. There is no minimum usage period, neither.
Plans
Rakuten Mobile offers only one plan. As shown in the table below, the bill will be determined later based on the number of gigabytes used.
| GB | Monthly Bill |
| --- | --- |
| 〜3GB | 1,078円 |
| 〜20GB | 2,178円 |
| 20GB〜 | 3,278円 |

After 20 GB, unlimited Internet access is available for ¥3,278 per month.
Extra Gigas
Rakuten Mobile offers unlimited usage beyond 20GB in Japan, and there is no purchase of additional gigs.
Overseas, on the other hand, there is no unlimited usage plan, and 1GB can be purchased for 500 yen.
Domestic Calls
Rakuten Mobile charges 22 yen per 30 seconds for domestic calls, and if you use the Rakuten Link app, domestic calls are free, including outgoing calls to cell phones.
Rakuten Link is not available for some numbers, such as numbers starting with 0570, but it is a very economical service.
Unlimited Calls
You can make unlimited calls with the Rakuten Link app, but there is also a 15-minute unlimited call option (¥1,100 /month)that does not require the use of that app.
Promotions
Rakuten Mobile is actively engaged in promotion. For example, you can get 6,000 yen worth of Rakuten Points, which can be used for shopping, Rakuten Mobile bill etc., if you meet the following two conditions.
Sign up for Rakuten Mobile for the first time
Switch from another company to Rakuten Mobile
You can access Rakuten Mobile Official Website for detail. This page is in Japanese only.
Procedures of Rakuten Mobile
In this section, you will learn about Rakuten Mobile's procedures as follows.
Let's start with the application.
Application
You can apply for Rakuten Mobile online or in-store. You may have seen Rakuten Mobile stores around town.
English Pages
Rakuten Mobile has an application form in English. If you see a Japanese page after clicking the following button, click on "English" in the upper right corner to view the page in English. On a smartphone, you can choose English after tapping the three-line menu in the upper right corner.
ID
The following IDs can be used to apply for Rakuten Mobile.
Residence Card
Special Permanent Residence Certificate
Diplomatic Identification Card and Residence Certificate
Cancellation
If you wish to cancel your Rakuten Mobile subscription, you must do so online. It is not accepted in stores.LINEMO cancellations are accepted online only, as is the case with the application.
User-friendliness of LINEMO
In this section, we share the following information about LINEMO's user friendliness.
Internet Connection
Rakuten Mobile uses its own lines and those of au (one of the three major cell phone providers), so you can use high-speed Internet anytime, anywhere.
eSIM
Rakuten Mobile supports eSIM. There is no issuance fee, including for re-issuance.
5G
Rakuten Mobile is already compatible with 5G; if you have a 5G compatible phone and are within the compatible area, you can enjoy super-fast Internet.
Payment
Rakuten Mobile bills can be paid in the following four ways
Credit cards
Debit cards
Direct debit
Rakuten Points
It is rare for a mobile company to offer four different payment methods.
Change of Plan
Rakuten Mobile has only one plan, so there is no need to change.
App
Rakuten Mobile offers an App that allows you to check the number of gigs, perform various procedures, and chat with customer service.
International Roaming
Rakuten Mobile offers Internet, calls, and SMS in more than 70 foreign countries.
You can use up to 2 GB overseas without additional charge. Please check the Official Website (Japanese only) for countries where Rakuten Mobile is available.
Conclusion
In this article, Rakuten Mobile is explained from three perspectives: price, procedure, and convenience.
We hope you find the right SIM for you and wish you a more comfortable life in Japan!
Here is a post introducing recommended SIMs in Japan.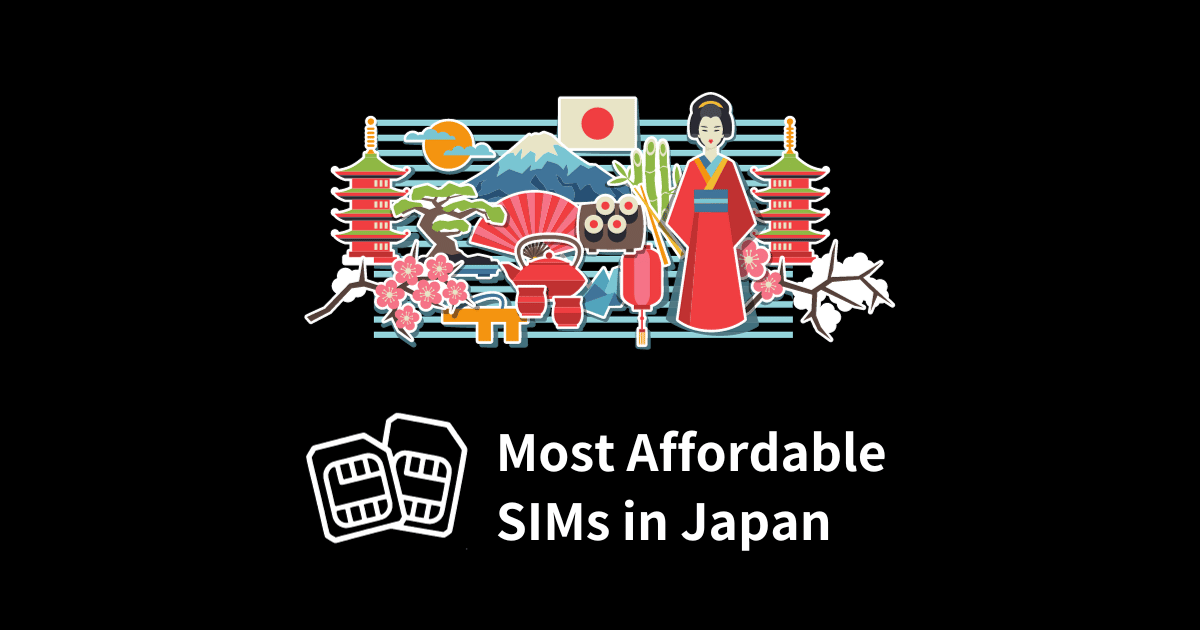 Accuracy of Information: The information provided on this blog is presented to the best of our knowledge, but it does not guarantee the accuracy of the information. Readers are encouraged to exercise their own judgment and verification when using the provided information.
Professional Advice: This blog is intended for general information purposes and does not provide professional advice. For specific issues, it is recommended to seek advice from experts.
Products and Services: When considering products or services mentioned in this blog, it is advised to conduct independent research and review the terms and conditions and disclaimers provided by the linked sources.
Copyright: The copyright of the content published on this blog belongs to the author, and unauthorized reproduction is prohibited.