As we step into a world where everything is going digital, mobile connectivity has become more vital than ever. In light of this, I would like to introduce you to LINEMO, one of the latest entrant in the world of mobile communication services. As an experienced user of LINEMO, I am eager to share my insights and knowledge about this revolutionary platform.
LINEMO is the brainchild of SoftBank Corp., a renowned telecommunications company based in Japan. Introduced in March 2021, it aims to revolutionize mobile communication services in Japan by offering a feature-rich, user-friendly, and cost-effective platform. In this guide, we'll explore the basics of LINEMO.
Through this comprehensive guide, my objective is to familiarize you with this innovative platform, enabling you to make an informed decision if you are considering signing up or switching to LINEMO. This post introduces LINEMO in three parts: charges, procedures and user-friendliness. So, let's dive right in!
タップできる目次 Table of Contents
Charges of LINEMO
In this section, we will look at the following items regarding LINEMO's charges.

Let's look at them in order.
Administration Fee
LINEMO offers no administrative fee; many services charge between 3,000 yen and nearly 4,000 yen, but LINEMO's no fee makes it easy to sign up.
Cancellation Fee
LINEMO also has zero cancellation fees. There is no minimum usage period.
Plans
LINEMO offers the following two plans.
| Monthly Bil | GB/mo | Speed after Bandwidth Limit |
| --- | --- | --- |
| ¥990 | 3GB | 300kbps |
| ¥2,728 | 20GB | 1Mbps |

Even if you run out of gigs, you can still use the internet at low speed. I was limited to 300 kbps, but I managed to watch YouTube.

Also, with both plans, you can use LINE text messages, voice calls, and video calls as much as you want at high speed.

So it is quite possible to get through a month with the 3GB/990yen plan.
Extra Gigas
If you run out of LINEMO gigs, you have the option of buying additional gigs, in addition to continuing to use it at a lower speed.

The cost is 550 yen for 1 gigabyte. It can be conveniently purchased online.
Domestic Calls
LINEMO's domestic call charge is 22 yen/30 seconds. As mentioned earlier, both voice and video calls on LINE are completely free.
Unlimited Calls
LINEMO's two unlimited calling options are as follows.
| Option | Monthly Bill |
| --- | --- |
| 5-minute unlimited calling | ¥550 |
| Completely unlimited calls | ¥1,650 |
If you sign up for the 5-minute unlimited call plan, you can save money on calls by hanging up before the 5 minutes is up and calling back.
Promotions
LINEMO is actively running promotions. The campaign that led me to sign up for LINEMO was a plan that offered 990 yen worth of PayPay points for 6 months, which can be used for shopping, dining, and paying LINEMO bills, making it a very good deal.
Additional information about the promotion
Not applicable for smartphone plans(20GB/¥2,728).
Not applicable if you are transferring from SoftBank, Y-Mobile, or LINE Mobile.
Cannot be used together with campaigns in which PayPay points are eligible.
Rewards are non-withdrawable and non-transferable.
PayPay points can be used at official PayPay stores, etc.
Procedures of LINEMO
In this section, the following aspects of the LINEMO procedure are presented.
Let's start with the application.
Application
LINEMO applications are only available online. In-store applications are not available.
English Pages
LINEMO has an English page, which can be accessed by tapping the following button.
However, the application form is in Japanese. If you have difficulty reading Japanese, you can access the instructions in English by clicking the "Application Guide" button (shown in the bottom left-hand corner of the image below) from the English page.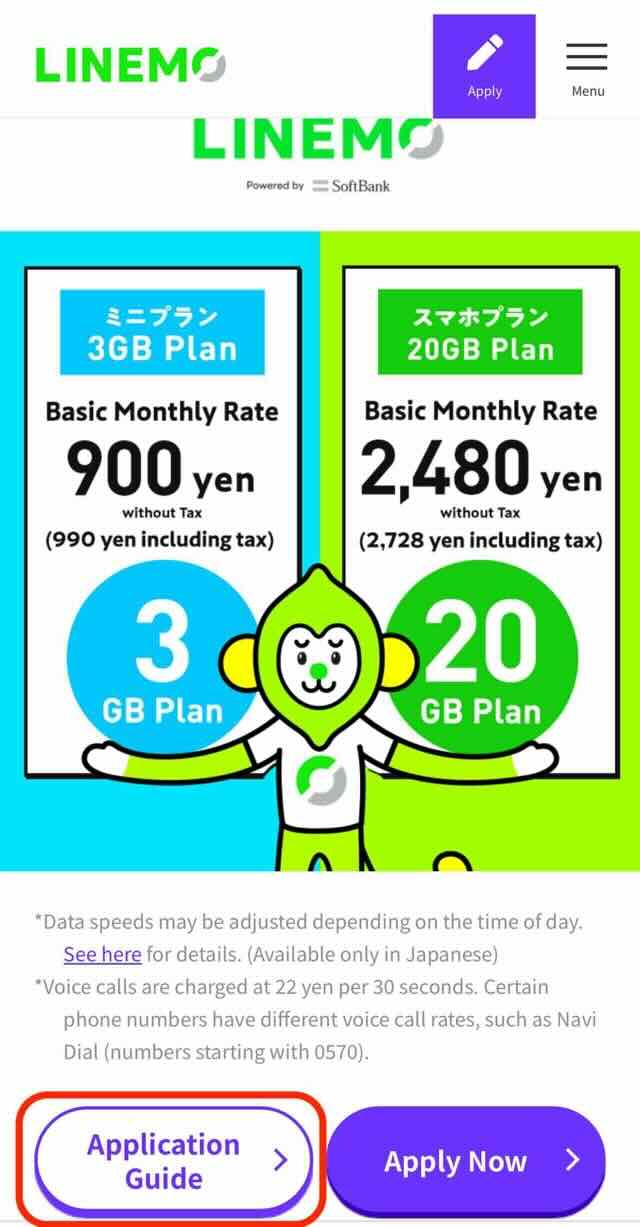 ID
Identification documents that can be used to apply for LINEMO are as follows.
| Status of Residence | ID |
| --- | --- |
| Permanent Resident | Residence Card |
| Special Permanent Resident | Special Permanent Residence Certificate |
| Others | Residence Card and Passport |
Cancellation
LINEMO cancellations are accepted online only, as is the case with the application.
User-friendliness of LINEMO
In this section, we share the following information about LINEMO's user friendliness.
Internet Connection
LINEMO uses its own lines, so you can enjoy high speed internet anytime, anywhere. 5G has given me nearly 300Mbps at times. I was surprised that it was faster than WiFi at home.
eSIM
LINEMO supports eSIM and there is no charge for eSIM issuance. I have a contract with eSIM.
5G
LINEMO is already 5G compatible; if you are in a 5G compatible area with a 5G compatible phone, you can use high speed internet.
Payment
LINEMO bills can be paid in the following ways.
Credit cards
Direct debit
PayPay
It helps that they support a variety of methods.
Change of Plan
LINEMO plan changes can be made online. By completing the procedure by 9:00 p.m. on the last day of each month, the plan switch will take effect the following month.
App
There is an app for the procedure to start using eSIM.
International Roaming
LINEMO can be used overseas for internet, calls, and SMS.
New subscribers must wait 5 months from the first billing date before they can use the service overseas.
Conclusion
This post introduced LINEMO in three parts: charges, procedures and user-friendliness.
I hope this article will help you choose the best SIM in Japan!
Here is a post introducing recommended SIMs in Japan.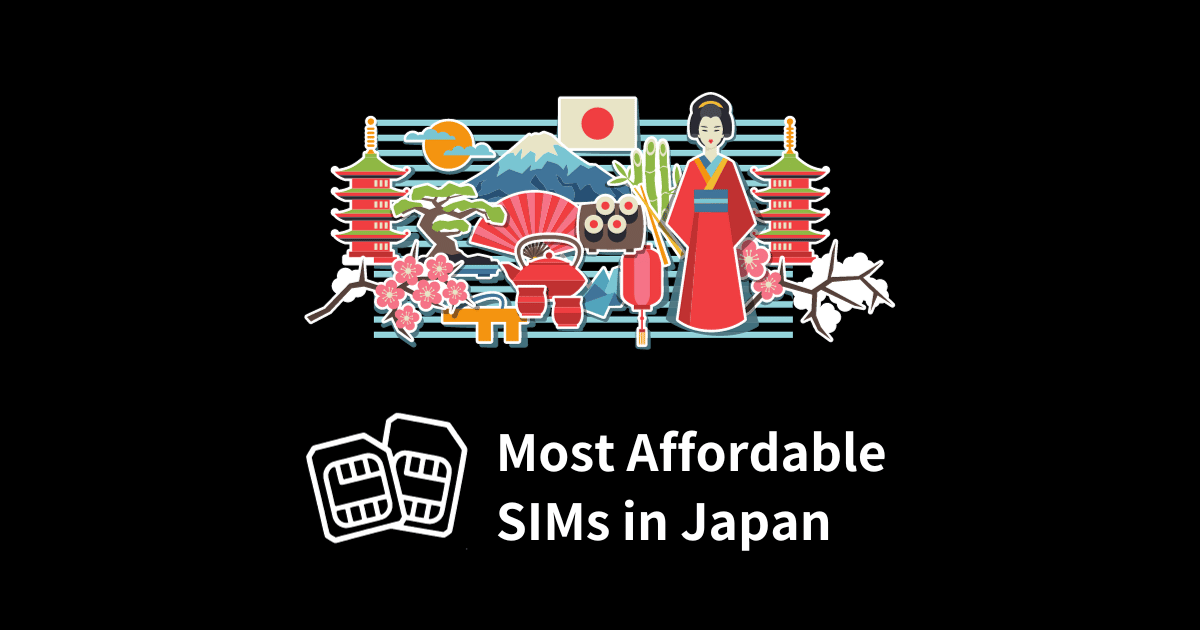 Accuracy of Information: The information provided on this blog is presented to the best of our knowledge, but it does not guarantee the accuracy of the information. Readers are encouraged to exercise their own judgment and verification when using the provided information.
Professional Advice: This blog is intended for general information purposes and does not provide professional advice. For specific issues, it is recommended to seek advice from experts.
Products and Services: When considering products or services mentioned in this blog, it is advised to conduct independent research and review the terms and conditions and disclaimers provided by the linked sources.
Copyright: The copyright of the content published on this blog belongs to the author, and unauthorized reproduction is prohibited.